In the recent few weeks, I have had the pleasure of delving into Anthroplogie-inspired designs for some of AYE's upcoming 2015 weddings, and I have to say that I am over the moon incorporating the gorgeous look and feel into the scope of these weddings. Vintage mismatched china, gold dipped accents, soft shades punctuated with bold colors, watercolor, lots of textures including velvet and natural linen, reclaimed wood, indie upholstery and a plethora of unique pieces that complete the big picture. As a creative wedding designer, what I love so much about the Anthropologie-look is that every little mismatched, unconventional piece actually impeccably contributes to a perfectly chic overall look and design.
Brides, once you establish that this is the wedding style and aesthetic you are leaning towards, a great way to start on the right foot is by defining a color palette. For an Anthropologie-inspired wedding, you will want to pick approximately four to five colors that range from soft hues to eye-catching colors. Substitute stark and true white shades with ivory, cream, ecru or even champagne. Add in a soft hue such as mauve, blush, butter, taupe, etc. Add one or two colors that pack an impact, such as indigo, burnt orange, emerald, marigold or even fuchsia. Finally, add a metallic accent, such as gold, antique gold, platinum, etc. This color palette will create a guide for you to continually use as you place your rental orders, work with your floral designer to create floral recipes, select china, silver, glassware, linens, and purchase additional decor and accent pieces.
The overall aesthetic for an Anthropologie-inspired wedding is a combination of al fresco, vintage, a touch of boho chic and whimsy. When speaking with your floral designer, consider designs that have a "wave" to the shape of the arrangement, featuring greens and big colorful blooms with some whimsical blooms "popping out" of the arrangement in certain areas. Think of hand-tied bouquets filled with natural greens and statement blooms with textured wraps such as velvet, lace, raw silk, etc (think opposite of grosgrain). For table decor, consider skipping the linen and selecting a rustic walnut farm table with cross back napa chairs. Think mismatched china or china rimmed with the metallic you have selected for your color palette. Selecting a napkin in the bold hue from your color palette can create an statement and pull all of the elements of the table together. For place cards and escort cards, consider watercolor in the softer shades of your color palette.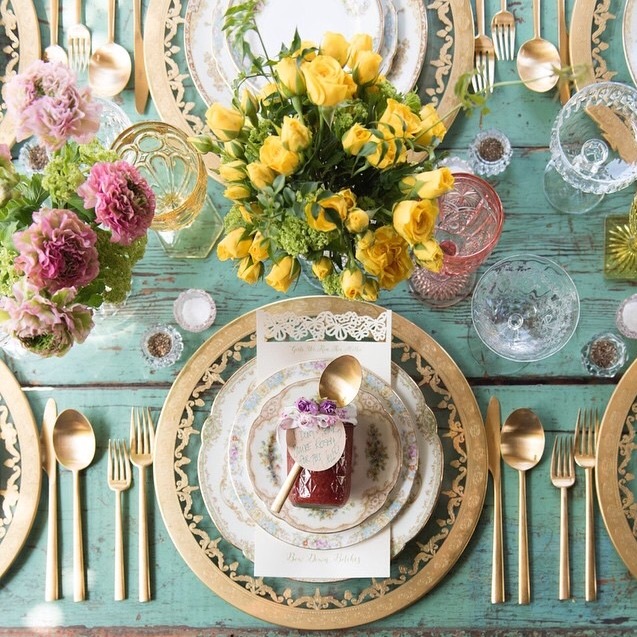 Finally, no Anthropologie-inspired wedding would be complete without a chic, completely styled lounge area that feels like that "spot" where everyone wants to relax with a fun cocktail. Think vintage rental furniture such as tufted couches and chairs, colorful moroccan poufs, an indie tapestry rug or even a white shag area rug, a wide and long wood coffee table, lots of votives in various styles, a plethora of textured, colorful throw pillows and fun metallic accent pieces for the table.
What do you think, lovelies? Are you feeling inspired to begin applying some of these ideas to your wedding design plans? If you do, I would LOVE to see what you create. Upload your photograph on IG and tag @alwaysyoursevents so that we can see all the prettiness you have created!
XOXO, Keri
Photo Sources: Colin Cowie Weddings, Style Me Pretty, Burnett's Boards, Casa de Perrin